I've recently just returned to Church - which means I've also recently returned to God.
I've been going every weekend for the past couple months now and I can honestly tell you that I'm so content. Life may not be quite the way I'd like it to be right now and things may not be in the order I wish they were, but if nothing else, I have my Faith and my relationship with God. It's almost scary and I don't want to question it too much; but I feel like I was "pulled" back into the Church. I would go now and again when I had to or when I felt like I needed that cleansing feeling, but this time around, it seems like a force that swept me off my feet. I've always needed Faith in my life but I questioned it

A LOT

. I wasn't sure if it was fact or fiction - cult or community? I still have questions today but not as much skepticism. I feel as if it has really brought something to my relationship with J too. We are both very

committed

to practicing our faith now..More than we ever were. Every time I leave Mass, it's such a gratifying experience. I am really pleased that J grew up in a home where God was acknowledged and sought.
In later years as he and his siblings aged, they were on their own terms as to whether they wanted to continue a relationship with God or not. Much to their mom's dismay, they all pretty much strayed from the church; mostly attending just for weddings, christenings and holidays. When I did go to Mass for what was the first of many times with J, I was so impressed at all the things he recalled. He knew all the responses, and the prayers etc..
I guess it helped that it was a part of his life for so long, even though he'd left the church at a fairly early age. I didn't really grow up with religion. I did go to

CCD

and made my Holy Communion but I didn't want to continue my classes any further and my mother didn't object. So I never did make my Confirmation. But I have a strong desire to get that accomplished now. I feel somewhat "unfinished".
I always tell J that
we
left God; He did not leave us. I feel like we're back where we belong now. When times get tough I pray - I have a mini - wallet sized prayer book that I keep in my purse and it helps to get me through trying times. It truly does help to put things in a better perspective. It eases my mind. When I'm at Church, I feel like it's the one place I know I'll always 'belong'. No one is there to judge me. I know that God is the one ideal that will always be a constant in my life - as long as I don't stray.
I know religion is one of those things you don't discuss, but this is my blog and these are my thoughts. So I'm sharing!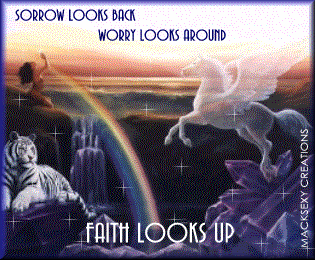 "Be careful for nothing; but in every thing by prayer and supplication with thanksgiving let your requests be made known unto God. And the peace of God, which passeth all understanding, shall keep your hearts and minds through Christ Jesus" (Philippians 4:6-7).